Jika anda pernah ke Disney Land atau paling tidak menonton film Disney, pasti kalian tau kastil yang sering muncul di pre-opening film Disney. Nah, ternyata kastil yang ada di negeri dongeng Disney itu, terinspirasi dari kastil sungguhan yang ada di Jerman lho! Berikut ini  mas Yusron Wahyudi dan mbak Nova Resvita berbagi pengalaman mereka mengunjungi kastil negeri dongen Disney.
Indonesian Version
Kastil atau schloss (bahasa Jerman) itu adalah Neuschwanstein Schloss! Kastil ini berada di kota kecil Füssen di provinsi (bundesland) Bavaria, Jerman.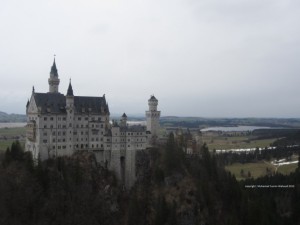 Kastil ini tidak hanya memberikan dekorasi yang indah, tapi juga pemandangan pegunungan alpen yang sangat cantik. Jika anda masuk ke dalam kastil dan berdiri di balkon khusus pengunjung, maka anda akan menikmati pemandangan danau Alp (Alpsee) dan pegunungan Alpen (Alps) sekaligus.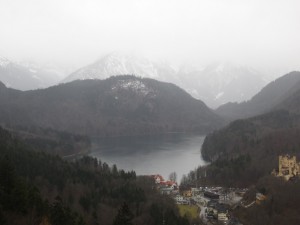 Kebetulan gambar diatas diambil pada sore hari dan cuaca sedang mendung. Tapi teman – teman bisa bayangkan jika cuaca bagus, maka yang terlihat adalah danau Alp, pegunungan es Alpen, dan langit biru yang menawan, so picturesque !
Biaya perjalanan :
Pada perjalanan saya kali ini menggunakan tiket schönes Wochenende ticket. Informasi selengkapnya bisa diklik di sini.
Setelah tiba di Füssen, kita dapat menggunakan bus ke kompleks kastil dengan harga EUR 4.4 untuk 1x return ticket.
Setiba di kompleks kastil, terdapat loket tiket untuk memasuki museum. Info mengenai harga tiket bisa diklik di sini
Nah, untuk ke kastil, kita harus mendaki sekitar 40 menit jalan santai atau 15 menit jalan cepat. Pihak pengelola memberikan layanan transportasi berupa bus dan kereta kuda. Karena tim kami biasa olahraga (turun tangga apartment, haha) maka setelah beli tiket masuk kami memutuskan untuk jalan cepat ke atas bukit menuju kastil Neuschwanstein. Jalannya mendaki dan lumayan juga ternyata.
Selama pendakian ada rest area, dimana para pengunjung dapat membeli makanan dan minuman. Harga rata – rata berkisar EUR 6 – 10 untuk makanan dan EUR 3 – 7 untuk minuman.
Toilet umum EUR 0.50 (di luar kastil)
Di atas bukit ada spot yang sangat bagus yaitu Marienbrücke (Jembatan Marien) dimana kita dapat melihat kastil dan danau secara bersamaan, sungguh indah!
Berikut foto – foto nya :
Di sebelah kiri adalah Marienbrücke dan di sebelah kanan adalah Alpsee & The Alps.
Tips perjalanan :
Jika ingin memasuki museum, saran saya agar datang pagi – pagi karena sistem masuk museum menggunakan sistem batch/kloter. Jika beli tiket siang hari, kemungkinan anda akan mendapatkan jadwal batch/kloter sore. Hal ini akan mengganggu apabila anda punya jadwal lain pada sore hari.
Mengingat setiap kloter dibatasi baik jumlah pengunjung dan waktu kunjungan di dalam kastil ini, maka menurut saya eksplorasi di lingkungan kastil saja sudah cukup. Sehingga, jadwal perjalanan anda tidak terhambat dengan jadwal batch/kloter tiket masuk anda.
Selamat menikmati pemandangan pegunungan alpen dan kompleks kastil yang indah, semoga perjalanan anda menyenangkan! Auf wiedersehen!
Penulis : M. Yusron Wahyudi (Awardee LPDP Jerman, S2 Karlsruhe Institute of Technology)
English Version
Have you ever heard about The Disney Castle of Sleeping Beauty? It's not only in the fairytale, it does exist in real life. The castle named is Schloss Neuschwanstein, a castle located in Fussen, Bavarian area which is 131km far from Munich.
Well, I'd like to share what so called "small adventure" to reach a site where the beautiful view can be seen. My friends and I stood up in front of the castle while thinking how to take the full view of this castle. We did know the bridge name but we had no idea how to get there. Then we decided to ask people. It was slippery dangerous pathway due to the bad weather, raining and snowy. The gate to Marienbrücke Bridge where we could see the beautiful view of Neuschwanstein was closed for the safety of visitors. But strangely, we saw many people tried to climb the gate even children too. It was so crazy that we decided to break the rules, penetrate the blocked gate and keep walking on the climbed way. It wasn't raining at the moment but the ice was melted and the footpath was so slippery, right side was the hills and left side was the cliffs. I almost felt down for many times due to the bad shoes. It took quite much energy to climb up. In the middle way to get there, I decided to stop and would like to go back down because suddenly remembered what had happened 3 years ago when I slipped down in the tea garden area and almost broke my arm. But my friends reminded me that we were already in the middle, close enough to reach the bridge. Well, I didn't know something triggered myself and agreed with what my friends explained. Then we kept walking on that slippery route. Thanks to my friends who convinced me to not give up.
WOW, great thing when we reached the gate was the landscape was extremely awesome. It was totally breathtaking, the best view I ever seen in my life. At the moment reaching the top, there was a small bridge connecting 2 sides of the hills where we can see completely the whole castle and surrounding area. But then I remembered that I have phobia when standing on the high place. At the moment I glanced down to what was below the bridge, my feet started to tremble, my mind started thinking that it's gonna break down. Luckily, my desire to see perfect view was high enough to defeat that fear. I stepped forward to the middle of the bridge. Oh then suddenly the grainy tears fall down to these cheeks. How Grateful Allah is for creating such beautiful scenery in this earth. The beautiful Alpen mountains coated by snow, surrounded by green lake, pure streams flowing down the bridge and extremely amazing beautiful castle. The nature there was so pure. It was perfectly awesome when the snowfall came over, hit this red coat, face, camera and everything. Alhamdulillah, this was my first experience to climb up the slippery iced pathway. Great things could be learned and one of them was"Keep moving on, keep climbing, do not give up. You'll see the beautiful view on the top and that time you'll realize that everything is paid off. "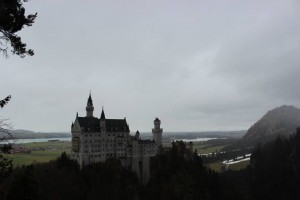 Penulis : Nova Resvita (Awardee LPDP Jerman, S2 RWTH Aachen)